The Best Holiday Party In Your Company's History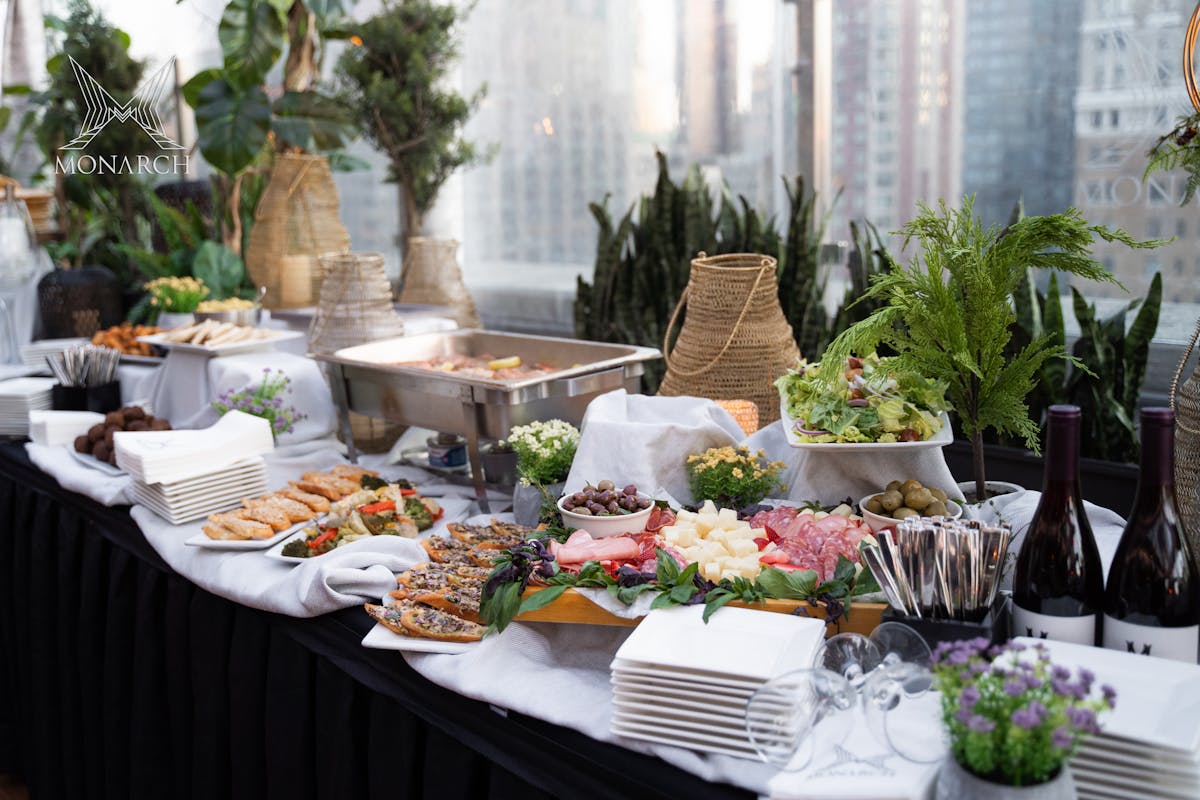 At the end of the year, there are only two things we all look forward to from our bosses: a fat bonus and an epic holiday party. With a turn of a decade like ours, a New York City rooftop with jaw dropping views is the only fitting venue to celebrate record breaking milestones. We are done with potlucks and white elephant gifts; due for delectable passed hors d'oeuvres and feisty cocktails all wrapped up in an elevated experiential approach.
But if you are stuck planning the party, you'll have to carry the weight of high expectations from your colleagues on a tight budget set by your boss, all while staying on top of your current projects. The fix? A fine-tuned team that can plan a tailor-made celebration with a guarantee as simple as, "you pick the date, we do the planning".
7 reasons to pitch Monarch Rooftop for your next holiday party.
1. Team
From the second you reach out to the special events team at Monarch Rooftop, you can expect white glove service every step of the way because our attention to detail is unmatched. We are certain you will appreciate our keen sense for hospitality during your planning process as much as on the day of. We've mastered every iteration of celebration. We know planning the most anticipated corporate party of the year is no easy feat, so we've got your back and every little detail covered.
With each postponement, the order gets taller and taller. Therefore, your access to our team is our utmost priority. We are always available via email, call, text or even by video. With our booking process going digital, you can lock in your holiday party instantly in the palm of your hands. But don't take a second to hesitate as we book up quickly on a first come first serve basis due to the high influx of demand and limited availability for the holiday season. Click here to start planning the most memorable holiday party in your company's history.
2. View
Step away for a working lunch at Monarch Rooftop for a tour of our expansive 5,000 square feet venue. Be instantly transported right off our private elevator and see New York City like you never have before. You'll be allured by our views stretching from Central Park to the iconic Macy's on 34th street and just around the corner you could almost touch the Empire State Building. Without a doubt, you'll know that Monarch Rooftop is the venue that'll guarantee to captivate and impress every guest at the holiday party.
Our rooftop's eccentric splashes of colors and patterns is a cheeky play on the concrete jungle of New York City. Surrounded by stunning vistas of the skyline, your guests can enjoy the holidays in our sun-soaked Royal Terrace or within our sheltered, nature-inspired lounge without sacrificing the cityscape scenery. Each space is paired with access to an exclusive outdoor terrace. Step out for a breath of fresh air without leaving the party, with heaters and surround sound so you never miss a beat.
3. Holiday Décor
As the sun falls, let the city that never sleeps light up your night. Your guests will find themselves in our holiday wonderland. Each room is artfully decorated with twinkling string lights, in season holiday flowers and ornamental star chandeliers bringing festive joy and cheer. Enough to skip and save on your floral budget that won't be missed. When the day transforms to night, you'll watch the Empire State Building illuminate.
4. DJ & Up Lighting
But the luminosity doesn't stop there. Take advantage of our disco lights and up lighting amenities. Set the vibe and pair the lights with our DJ virtuosos. Bring life to the dance floor and let the lights pulse to the beats from your audio curator. We're always open to take requests but if you need a bit of guidance, don't fret. Our DJs can skillfully read your crowd and craft the mood to fire up the dance floor to fun and flirty beats.
5. Cocktails
No glitzy party is without a bit of liquid gold. Every guest is greeted at the door with champagne on arrival; a toast to the start of a decadent evening of celebration. Upgrade your champagne to a custom wall and instructions to "Seize The Night".
Each event is accompanied by friendly staff and impeccable service including at least one dedicated comprehensive bar. Expecting a few hundred guests? Opt for a full venue buyout and take advantage of both our main and terrace bars. Despite the size of your event, entice your guests with one of our open bar packages with unlimited tiered cocktails, seasonal craft beers, wine, champagne, assorted fresh Juices, sodas, and bottled water. Standard open bar packages includes liquors like Absolut, Tanqueray, Titos, Captain Morgan, Jack Daniels, Dewars, etc. Premium open bar packages include all the Standard liquors, as well as premium options like Grey Goose, Bombay Sapphire, Bacardi, Patron Silver, Maker's Mark, Johnnie Walker Black, and more.
Pro tip: Impress your investors, executives, and board with our "Ultra Premium Liquors" on consumption with options like, McCallan, Pappy Van Winkle, 1942, Louis XIII and more.
Lavish your guests and add on your choice of specialty cocktails to your open bar package. Our rotating cocktail menu will be sure to delight even our regulars. Click here for a peek at what we are currently offering. But if your boss is a cocktail aficionado with high expectations difficult to reach, work with our Chief Mixologist to craft innovative recipes any visionary would want to call their own. Add a play on words or a brazen twist; we love a good pun to celebrate your accomplishing year.
6. Catering
Gone are the odd mashups cloaked as fusion cuisine, our Chef knows what keeps our guests asking for more. You've might've peeped at our Instagram worthy small plates, but our catering options will put on a show, quite literally! We're all about bold flavors that'll also feed the eyes. Our stationary platters are the perfect eye catchers. Our most notable international cheese and charcuterie meat boards are always bound to wow. Prefer a bit more sophistication? Select from our elegant passed hors d'oeuvres and ask about our seat dinner options! With an in-house Chef, we'll guarantee to make any accommodations including dietary restrictions.
Foodies in your group that'll want more? Turn up the heat and let our chefs flaunt their culinary mastery with our live action stations. We offer guests the opportunity to create their own plates and watch our chefs bring their masterpiece to life. From breakfast, lunch and dinner we offer popular and sophisticated stations with fix-ins, accompaniments and cocktail pairings. Our made to order live action stations are as captivating as they are delicious. Tickle your holiday nostalgia and cap the night off with something sweet. Our dessert stations are bound to bring jolly to all.
Our live action stations include options like "The Burger Joint," "Chopstick House," "That's Amore Pizzeria," "Pasta Over Everything," "Southern Charm BBQ," and our most popular, the "Santorini Tapas" Station. Our premium live action station options are a Seafood Station, Sushi Station, or Carving Station. For dessert stations, we offer an Ice Cream Bar, Dessert Pizzas & Creme Brûlée, Chocolate Fondue Fountain, Campfire S'mores, or Dessert Cocktails. Want to learn more about our stations? Ask our events team how you can incorporate the latest custom dessert trend!
7. Experiential Amenities
Turn on portrait mode and strike a pose in front of the Empire State Building. Every inch of our venue is a photo opportunity waiting to be discovered. Your guests will work their angles in our many nooks and crannies; from our custom neon signs to our thirteen feet tall Christmas trees.
Tailor the perfect moment and create a custom step and repeat. As they say a picture is worth a thousand words so be sure to ask about our roaming professional photographer. Capture the memory of the energy on the dance floor and share the online gallery with all to download the following day. But if you prefer to keep it intimate but still trendy… We offer open air photo or video booths with the NYC skyline as the backdrop. Does it get more iconic than that?
If you have a knack for grandeur, we can appreciate your preference for refined entertainment. We're happy to captivate your guests with a massive ice luge carved live on our deck. Charm them with the art of hand rolled cigars by a cigar butler. Enchant your sophisticated audience blending magic, mentalism, humor and swag. You bring the team; we bring the magic.
Many have dubbed this decade transformational, a redefined era of the gilded age. Let's welcome the new age of prosperity together. Ring in another successful year and cheers to the wins and achievements in comradery. How fitting to celebrate the transformation at Monarch Rooftop, our namesake symbol of hope and resilience. We look forward to having you and your team here for the best holiday party in your company's history.