Bachelorette Parties | Before You Say I Do, Let's Have a Party or Two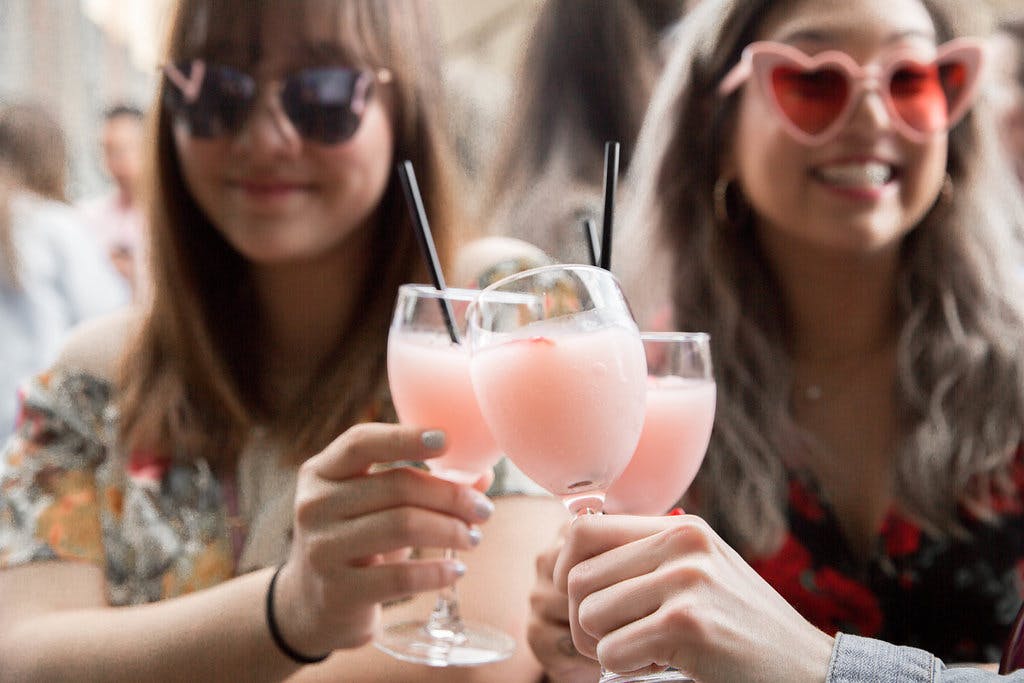 It's that time in your life when your best friend has asked you to be her Maid of Honor. There is so much for you to do and so much to plan. This pinnacle night will be one of the highlights of your best friend's life. Let's make memories, grow closer, and celebrate this once in a lifetime occasion. Monarch Rooftop will make this happen.
Where you're looking for a casual daytime catch up with some light finger foods or a wild no regrets last night out, Monarch Rooftop is the perfect place for a bachelorette party. Take the responsibility of showing that bachelorette the time of her life out of your hands and put it in ours. Our bachelorette packages are designed to make sure you have a day to remember.
What better way to say she's engaged than to celebrate it in style? We will show you the luxury and the top-notch service that we pride ourselves in. Where do you start and what do you do? To have the proper last fling before the ring demands, getting one of our Bachelorette Packages will make your night. Why even think about all the details? Come to us and have one of our specialists set you up for success. We offer custom settings, drinks, and packages with the right style to really get things started. All you have to worry about is choosing the best pose to take a pic underneath our amazing view of the Empire State Building.
Let's have the right photo ops. Let's make a night to be remembered. This is the time and the place. Do you want to start the night off right and just "Skip the Line", have a glass of champagne and come in and dance the night away? Or let's get classy and sassy with our Mimosa and Bellini Bar, where your 10 guests will have the time of their life with a reserved high top table and where you will be able to dance the night away without a care in the world. Not a champagne type of crew, how about make it loud and proud with a MEGA ENGAGED Package. Where you can have your champagne and a Mega Bear Mule, with a mule to satiate any palate mixed with a bottle Kettle One Botanicals will definitely have you "ALL THE WAY UP" and ready to "Seize the Night".
At Monarch Rooftop, we want to ensure that all of your needs are met and you don't have to worry about anything. So come and sit with us and have a night that you could have only dreamed was possible.
Not going out for the night and you just want to hang and have some drinks, we can make that happen to, we are open every day and we are looking forward to having you join us for your celebration, come get a breath of fresh air and hang out with the rest of your wedding party, and take some pictures and smile because this is your time. Hang and have some rose all day, some light bites and catch up for a beautiful Saturday brunch. Whatever you need we are there to help you make your visions come true.
We know that you demand the best and we are here to give you the best and nothing less. Whether it be a night out to dance and throw it down, a lovely afternoon, or to reminisce and relax, we can do it all. We are one of the reasons that people in NYC have the night of their lives. So if you are from out of town or uptown, from Brooklyn to Beirut, we are the place to come to celebrate. We are the place to choose, come take some pictures, come spend the night, this is your time to celebrate and we will make sure you do it right. So come and relax without a worry, we got you covered. Whether you start the night with us or finish your night out at the Monarch Rooftop you are making the right choice. We are here to help you have the experience of a lifetime and memories that will last forever
We know this is the day that you and the wedding party want to do something that is full of energy and smiles, a celebration of ceremony and a way to show the bride how much you appreciate her. You deserve it, and she definitely deserves it.